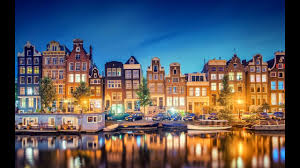 Study in Holland as an International Student
The Netherlands is a country situated in northwestern Europe, bordering Germany and Belgium. Many people refer to the country as Holland, although Holland is just part of the larger Kingdom of the Netherlands. The Netherlands is one of the most advanced countries in Europe, boasting of a high standard of living. In addition to the good life that the country is known for, The Netherlands also has a name for its exceptional education system, with more than 1,500 study programs in English offered by 77 different universities. These programs mainly target international students who aspire to study abroad, and the country has indeed attracted quite a diverse student body.
Top universities in Holland are not just top in the country alone. They are also among the best in the world, and that explains why there is an influx of students submitting their applications to study in the country. Regardless of whether you're searching for a PhD, masters, or a bachelor degree in Holland, there are many opportunities for you.
Scholarships
There are many scholarships available for international students who want to study in any of the universities in Holland. The scholarships vary, with some government supported, while others are offered by the respective universities. These are usually awarded on merit. To know whether you qualify for a scholarship, which most likely you do, Apply Now here and Mousez will get in touch with you with the open scholarships that you are eligible for. You can also check with the university or government agency in Egypt for choices of financial aid and apply early.
The Netherlands Fellowship Program (NFP)
You can also apply for scholarships from The Netherlands Fellowship Program, which is financed by the country's Ministry of Foreign Affairs. The focus of the program is to build capacity in association with 51 nations by providing fellowships to train and instruct professionals. The NFP targets students pursuing masters degrees, PhD, or short courses offered by some of the top universities in Holland. This program is, however, currently being faced out and the ministry is currently developing a similar program christened the Orange Knowledge Programme (OKP).
Holland Scholarship -
The Holland Scholarship is offered to international students pursuing their education in Netherlands. It is financed by the Netherlands Ministry of Education together with some top universities in Holland, as well as colleges of Applied sciences.
This is a fully funded masters degree award offered to students who show scholarly excellence in their bachelor degree in Holland and professional magnificence and passion for driving positive change in their community.
Surmounting Language Barrier
There are two major languages in Holland - Dutch and English. Before being admitted to any of the universities in Holland, you would be required to take language proficiency tests. To properly prepare to enter a university in The Netherlands, most international students opt for the Holland International Study Center, where several programs are offered for students who wish to join Dutch universities. Students who go through the HISC, get an opportunity to sharpen their mastery of the English language, as well as other disciplines relevant to their areas of study.
Another reason why studying in The Netherlands is a choice for many international students is the possibility of working in the country after finishing your studies. Feel free to Contact Mousez Mousez for more information on how best to approach the application process.
---