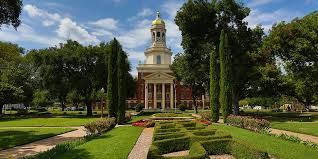 Baylor University
Mousez study abroad , Apply Now.
Overview
What makes Baylor University special?
A top ranked institution, Baylor University is globally renowned for academic excellence.
Our welcoming campus is home to a select community of high achievers. Together, we form a powerful school spirit, based on the Christian faith and shared values.
Study internationally at Baylor University and you will contribute to world-class research that will impress future employers.
You will receive individual attention to help you excel in classes, and you will be part of a diverse community united by a strong sense of belonging as one of our Baylor Bears.
Location
1301 S University Parks Dr, Waco, TX 76706, United States
Accounting
American Studies
Anthropology
Apparel Design and Product Development
Apparel Merchandising
Applied Mathematics
Applied Music
Arabic and Middle East Studies
Art History
Asian Studies
Astronomy
Aviation Administration
Aviation Sciences
Biochemistry
Bioinformatics
Biology
Business Fellows
Chemistry
Child and Family Studies
Choral Music
Church Music
Classics
Clinical Laboratory Science
Communication
Communication Sciences and Disorders
Communication Specialist
Computer Science
Computer Science Fellows
Earth Science
Economics
Education - Elementary
Education - Middle Grade
English, Language Arts and Reading
Mathematics
Science
Social Studies
Education - Secondary
Business
English, Language Arts and Reading
Life Sciences
Mathematics
Physical Sciences
Social Studies
Education - Spanish all level
Education - Special Education
Education Certification - Music Education
Education Certification - Physical Education
Electrical and Computer Engineering
Engineering
English
Entrepreneurship and Corporate Innovation
Environmental Health Science
Environmental Science
Environmental Studies
Exercise Physiology
Film and Digital Media
Finance
French
General Family and Consumer Sciences
Geography
Geophysics
German
Great Texts of the Western Tradition
Greek
Health Science Studies
Health, Kinesiology, and Leisure Studies
History
Human Resources Management
Instrumental Music
Interior Design
International Business
International Studies
Journalism
Language and Linguistics
Latin
Latin American Studies
Management
Management Information Systems
Marketing
Mathematics
Mechanical Engineering
Medical Humanities
Music
Music Composition
Music History and Literature
Music Theory
Neuroscience
Nursing
Nutrition Sciences
Philosophy
Physics
Piano Pedagogy
Political Science
Professional Writing and Rhetoric
Psychology
Public Health
Real Estate
Recreation and Leisure Services
Religion
Risk Management and Insurance
Russian
Science Research Fellows
Slavic and East European Studies
Social Work
Sociology
Spanish
Sports Sponsorship and Sales
Sports Strategy and Sales
Statistics
Studio Art
Supply Chain Management
Theatre Arts
Theatre Design and Technology
Theatre Performance
Theatre Studies
University Scholars


---