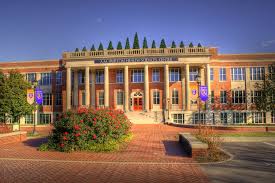 Lipscomb University
Mousez study abroad , Apply Now.
Overview
Why Study at Lipscomb in Nashville?
We help you gain confidence in your ability, strength in your faith and a deeper connection to the world around you.
You can choose from a range of highly respected undergraduate programs in which you'll gain confidence and competence through our approach.
When you graduate, you'll have a clear sense of direction and purpose - you'll be mentally and spiritually prepared for whatever comes next.
Lipscomb offers some of the best academic programs in Tennessee and prepares you for the world's fastest-growing careers.
Highly respected and top ranked courses are delivered in small classes by innovative faculty who focus on your success.
Location
1 University Park Dr, Nashville, TN 37204, United States
Accounting – BBA
Advertising – BA
American Studies – BA
Animation – BAA, BA
Art – BA
Art Therapy – BA
Biochemistry – BA, BS
Biochemistry-Applied – BA, BS
Biology – BA, BS
Biology Teaching – BA, BS
Biology-Pharmacy 3+1 Program – BA, BS
Biomedical Physics – BS
Bioscience and Philosophy – BS
Chemistry Teaching – BA, BS
Chemistry-Applied – BA, BS
Chemistry-Professional – BA, BS
Civil Engineering – BS
Computational Biology – BS
Computer Science – BS
Computer Science and Mathematics – BS
Data Analytics – BS
Data Science – BS
Dietetics – BS
ducation-6-8 Licensure Program – BA, BS
Education-K-5 Licensure Program – BA, BS
Education-PreK-3 Licensure Program – BA, BS
Electrical and Computer Engineering – BS
English – BA
English Teaching – BA
Environmental and Sustainability Science - BS
Exercise Science – BS
Family Science – BA, BS
Fashion Design – BA, BS
Fashion Merchandising, BA, BS
Film – BA
Film Production – BFA
Finance – BBA
Fitness and Sport Studies – BS
Food Systems Management – BS
French – BA
French Teaching – BA
Game Development – BS
German – BA
German Teaching – BA
Graphic Design – BFA
Health and Physical Education Teaching – BS
History – BA
History Teaching – BA
Hospitality Management – BA, BS
Information Security – BS
Information Technology – BS
Information Technology Management – BS
International Affairs – BA
Journalism and New Media – BA
Law, Justice and Society Major – BA, BS
Management – BBA
Marketing – BBA
Mathematics Teaching – BA, BS
Mathematics-Applied – BA, BS
Mathematics-Regular – BA, BS
Mechanical Engineering – BS
Molecular Biology – BA, BS
Music – BM, BA, BS
Music Teaching (Instrumental) – BM
Music Teaching (Vocal/General Music) – BM
Nursing* – BSN
Philosophy – BA
Physics – BA, BS
Physics Teaching – BA, BS
Political Science – BA
Pre-medical Programs – BS
Psychology – BA, BS
Public Relations – BA
Restorative Criminal Justice – BA
Social Work – BS
Software Engineering – BS
Spanish – BA
Spanish Teaching – BA
Special Education – BS
Sports Management – BS
Studio Art – BFA
Theatre – BA, BFA
Theatre Teaching – BA
Theology and Ministry – BA
Visual Arts Administration – BA
Visual Arts Teaching – BA
Web Application Development – BS
Worship Arts – BA
Bachelor of Arts (BA)
Bachelor of Business Administration (BBA)
Bachelor of Fine Arts (BFA)
Bachelor of Music (BM)
Bachelor of Science (BS)

---